Portland Dance Eclectic presents a
Weekend with Richard Powers and Angela Amarillas
What to expect from the Richard Powers Weekend
For many us, dance weeks and weekends and dance camps have provided a level of immersion into dancing where our dancing has gone to another level. For those dancers who enjoy waltz and other traveling dances, Richard Powers Waltz Weekends set the standards as reminders of why we waltz, the fundamentals of dancing and as a conversation in on how social dancing is evolving around the country. If you are a beginner or new to this style of dancing, expect to be inspired with the realization of the possibilities of social dance as accessible activity that can nurture mind, body and soul through out your life. Expect to learn fundamental skills of connecting with your partner, floor craft, and new moves that you can incorporate with what you already know.

For experienced dancers, immersion into the weekend should provide the opportunity to take dancing to the next level. Richard is constantly involved in adding to the possibilities of social dancing. Check out his new waltzlab.com.

Richard's weekends are well paced: The intersperse new moves, with free dancing and talks.

The Norse Hall ballroom is one of the best dancing venues in the Northwest: a large, perfectly finished wood floor, seating areas to rest and watch and a great location.
Tentative Weekend Schedule


Saturday, April 6 Norse Hall Main Ballroom, 111 NE 11th Ave

9:30-10:00am Registration and Warm ups
10:00am- 11:00 -Waltz Rueda - Variations for the Cross-Step Waltz Mixer.
11:10-12:30 - New underarm turns in rotary waltz, including free spins.
12:30 -1:45pm - Readings from book, Q&A and the catered lunch
1:45- 2:30 - Blues Old and New: How and why today's Blues are different from original 1920s Blues.
2:45-3:30pm - Favorites from the Google Waltz Lab.
3:30pm - 4:15pm - Readings from book and open Q&A sessions

Saturday Evening Dance , Norse Hall, 111 NE 11th Ave (Open to public)

Lesson: 7:30 to 8:45 pm. Lesson by Richard Powers - How to dance successfully on a crowded floor, with a mixed-level group. It will be a very useful lesson in basically having good time at a social dance. Expect lots of information, practice dancing and Richard's unique insights on social dancing.

Dance: 8:45 to 11:30 pm. Waltz, swing, and other traveling dances to music DJ'ed by Richard Powers and Dennis Myers

Cost: $15 at the door. Admission included in the cost of the weekend workshops.


Sunday Workshops, April 7, Norse Hall, 111 NE 11th Ave

10:00 - 10:30 Warm-ups
10:30-11:25 - Foxtrot and Finnish Tango.
11:35-12:30 - New underarm turns in rotary waltz, including free spins, part 2.
12:30 pm - 1:30pm - Talk with brunch style snack
1:30 pm - 2:30 pm What do you dance to this music plus review
2:30 pm - 4pm Practice Dance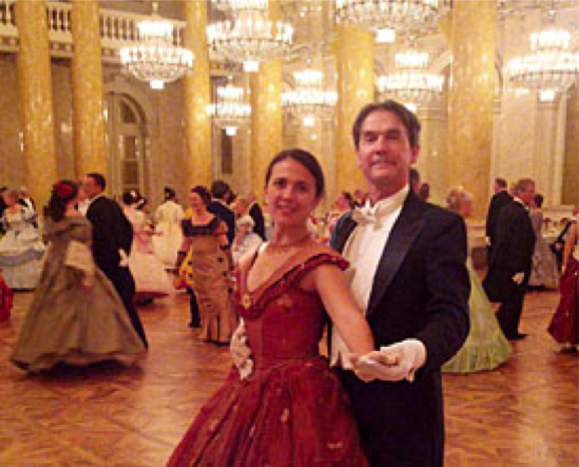 A Weekend of Waltz and Traveling Dance

with Richard Powers & Angela Amarillas

Saturday & Sunday, April 6 &7, 2013
Saturday and Sunday workshop events and evening dance at the Norse Hall, 111 NE 11th Ave, Portland, Oregon. More than anyone else Richard Powers has been instrumental in the rediscovery of the waltz as a contemporary partner dance with infinite variety and possibility. Richard Powers, associate professor of dance at Stanford University, leading dance historian, choreographer, and teacher of American social dance, and his long-time teaching partner Angela Amarillas, are excellent instructors! Over the last 25 years they have regularly had workshops in Seattle, Denver, Atlanta, Toronto, San Diego as well as Paris, Prague and Vienna. And their waltz weeks and weekends at Stanford University have become legendary. We are excited to welcome Richard and Angela back to Portland.


If you are not familiar with Richard Powers here is an introduction and a short video.

The weekend will include:
• Four workshop sessions on Saturday and three on Sunday
• Pre-dance workshop (open to the public), 7:30 Saturday
• Saturday night dance, 8:45 to 11:30, featuring DJed music by Richard Powers and Dennis Myers
• Catered lunch on Saturday featuring another of Richard's trademark presentations
• Stretching and warm-up each morning

The cost of weekend is $120 if registered by April 2. $130 after that if space available.

We don't want anyone to miss this workshop for financial reasons. Contact us for information on scholarships.