Every Thursday

Dance: 7:30pm to 10:30pm

Waltz Eclectic Thursday nights at Fulton Park
DJ Dennis Myers, Host Colleen Suzanne
All styles of waltz plus an eclectic mix of other dance music. All ages, all levels. Everyone welcome
Fulton Park C. C., 68 SW Miles, Ptld.
Cost: $7
There is now a waitlist for both follows and couples. If you wish to be placed on the wait list for the Encore Ball please email Dennis at PortlandDanceEclectic@gmail.com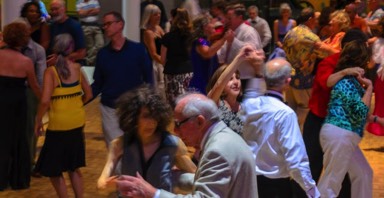 The Fifth Annual Encore Ball is at Director Park on Saturday, August 22.
Dancing under the stars in Downtown Portland
SW Park and Yamhill

COLORFUL eclectic evening wear is appropriate. Be sure to bring a wrap because evenings can be breezy and cool downtown. Bring few or no personal belongings of value. We are in a street venue in the city. Parking garage is at 9th and SW Yamhill

Cost: $25, Attendance is limited and we will balance leads and follows.
Sat. Aug. 1 , 2015

Lesson: 7:30 Dance: 8:30 -11:00
Blues Eclectic Saturday Night Dance

Blues, West Coast Swing, Blues, Waltz
Norse Hall, 111 NE 11th St, Ptld
7:30 - Lesson with Marjorie Taylor
8:30: Guest DJ Sam Liberman, The focus of the Blues Eclectic playlist is all blues: There will be various styles of blues from classic to contemporary: blues that swing and blues where you feel the rhythm in your body that gets you to move.
Cost: $10 for lesson and dance

Sunday, August 16, 2015

Lesson: 10:30 - 11:30 am
Dance: 11:30-2:30 pm
Sunday Waltz Brunch and Dance
10:30 to 11:30 Introduction to Waltz: Lesson by Uwe Hessinger and Colleen Suzanne
11:30 to 2:30pm: Eclectic Dance music djed by Dennis Myers The music we play is a ballroom-like mix of contemporary dance styles: a number of varieties waltz and waltz tempos, swing both east and west coast, two steps, latin and music that you can do both blues and tango style dancing to.

Norse Hall, 111 NE 11th St, Ptld

Cost: $12 for lesson and dance, $10- Dance only
Sat. Aug. 22, 2015

Dance: 7:00 -10:00
Annual Encore Ball at Director Park

SW Park and Yamhill Sts. Portland
Tickets available July 24 online and at dances

Sunday, August 30, 2015

Lesson: 10:30 - 11:30 am
Dance: 11:30-2:30 pm
Sunday Waltz Brunch and Dance
10:30 to 11:30 Introduction to Waltz: Lesson by Uwe Hessinger and Colleen Suzanne
11:30 to 2:30pm: Eclectic Dance music djed by Dennis Myers The music we play is a ballroom-like mix of contemporary dance styles: a number of varieties waltz and waltz tempos, swing both east and west coast, two steps, latin and music that you can do both blues and tango style dancing to.

Norse Hall, 111 NE 11th St, Ptld

Cost: $12 for lesson and dance, $10- Dance only
Sat. Sept. 12, 2015

Lesson: 7:15 Dance: 8:00 -11:15
Dance Eclectic

Waltz, Swing- East & West Coast, Two Steps, Latin
Norse Hall, 111 NE 11th St, Ptld Main Ballroom
7:15 - Lesson
8:00: DJ: Dennis Myers,
Cost: $12 for lesson and dance

Sunday, Sept. 20 , 2015

Lesson: 10:30 - 11:30 am
Dance: 11:30-2:30 pm
Sunday Waltz Brunch and Dance
10:30 to 11:30 Introduction to Waltz: Lesson by Uwe Hessinger and Colleen Suzanne
11:30 to 2:30pm: Eclectic Dance music djed by Dennis Myers The music we play is a ballroom-like mix of contemporary dance styles: a number of varieties waltz and waltz tempos, swing both east and west coast, two steps, latin and music that you can do both blues and tango style dancing to.

Norse Hall, 111 NE 11th St, Ptld

Cost: $12 for lesson and dance, $10- Dance only
Sat. Oct. 3, 2015

Lesson: 7:30 Dance: 8:30 -11:00
Blues Eclectic Saturday Night Dance

Blues, West Coast Swing, Blues, Waltz
Norse Hall, 111 NE 11th St, Ptld
7:30 - Lesson with Marjorie Taylor
8:30: Guest DJ, Dennis Myers, The focus of the Blues Eclectic playlist is all blues: There will be various styles of blues from classic to contemporary: blues that swing and blues where you feel the rhythm in your body that gets you to move.
Cost: $10 for lesson and dance

Sunday, Oct. 4 , 2015

Lesson: 10:30 - 11:30 am
Dance: 11:30-2:30 pm
Sunday Waltz Brunch and Dance
10:30 to 11:30 Introduction to Waltz: Lesson by Uwe Hessinger and Colleen Suzanne
11:30 to 2:30pm: Eclectic Dance music djed by Dennis Myers The music we play is a ballroom-like mix of contemporary dance styles: a number of varieties waltz and waltz tempos, swing both east and west coast, two steps, latin and music that you can do both blues and tango style dancing to.

Norse Hall, 111 NE 11th St, Ptld

Cost: $12 for lesson and dance, $10- Dance only
Sunday, Oct. 18 , 2015

Lesson: 10:30 - 11:30 am
Dance: 11:30-2:30 pm
Sunday Waltz Brunch and Dance
10:30 to 11:30 Introduction to Waltz: Lesson by Uwe Hessinger and Colleen Suzanne
11:30 to 2:30pm: Eclectic Dance music djed by Dennis Myers The music we play is a ballroom-like mix of contemporary dance styles: a number of varieties waltz and waltz tempos, swing both east and west coast, two steps, latin and music that you can do both blues and tango style dancing to.

Norse Hall, 111 NE 11th St, Ptld

Cost: $12 for lesson and dance, $10- Dance only
Sat. Oct. 31, 2015

Lesson: 7:15 Dance: 8:00 -11:15
Dance Eclectic Halloween Dance

Waltz, Swing- East & West Coast, Two Steps, Latin
Norse Hall, 111 NE 11th St, Ptld Main Ballroom
7:15 - Lesson
8:00: DJ: Dennis Myers,
Cost: $12 for lesson and dance

Sat. Nov. 7, 2015

Lesson: 7:30 Dance: 8:30 -11:00
Blues Eclectic Saturday Night Dance

Blues, West Coast Swing, Blues, Waltz
Norse Hall, 111 NE 11th St, Ptld
7:30 - Lesson with Marjorie Taylor
8:30: Guest DJ, Dennis Myers, The focus of the Blues Eclectic playlist is all blues: There will be various styles of blues from classic to contemporary: blues that swing and blues where you feel the rhythm in your body that gets you to move.
Cost: $10 for lesson and dance

Sat. Nov. 14, 2015

Lesson: 7:15 Dance: 8:00 -11:15
Dance Eclectic

Waltz, Swing- East & West Coast, Two Steps, Latin
Norse Hall, 111 NE 11th St, Ptld Main Ballroom
7:15 - Lesson
8:00: DJ: Dennis Myers,
Cost: $12 for lesson and dance

Sunday, Nov. 15 , 2015

Lesson: 10:30 - 11:30 am
Dance: 11:30-2:30 pm
Sunday Waltz Brunch and Dance
10:30 to 11:30 Introduction to Waltz: Lesson by Uwe Hessinger and Colleen Suzanne
11:30 to 2:30pm: Eclectic Dance music djed by Dennis Myers The music we play is a ballroom-like mix of contemporary dance styles: a number of varieties waltz and waltz tempos, swing both east and west coast, two steps, latin and music that you can do both blues and tango style dancing to.

Norse Hall, 111 NE 11th St, Ptld

Cost: $12 for lesson and dance, $10- Dance only
Sunday, Nov. 29 , 2015

Lesson: 10:30 - 11:30 am
Dance: 11:30-2:30 pm
Sunday Waltz Brunch and Dance
10:30 to 11:30 Introduction to Waltz: Lesson by Uwe Hessinger and Colleen Suzanne
11:30 to 2:30pm: Eclectic Dance music djed by Dennis Myers The music we play is a ballroom-like mix of contemporary dance styles: a number of varieties waltz and waltz tempos, swing both east and west coast, two steps, latin and music that you can do both blues and tango style dancing to.

Norse Hall, 111 NE 11th St, Ptld

Cost: $12 for lesson and dance, $10- Dance only
Sat. Dec. 5, 2015

Lesson: 7:30 Dance: 8:30 -11:00
Blues Eclectic Saturday Night Dance

Blues, West Coast Swing, Blues, Waltz
Norse Hall, 111 NE 11th St, Ptld
7:30 - Lesson with Marjorie Taylor

8:30: Guest DJ, Dennis Myers, The focus of the Blues Eclectic playlist is all blues: There will be various styles of blues from classic to contemporary: blues that swing and blues where you feel the rhythm in your body that gets you to move.
Cost: $10 for lesson and dance

Saturday, Dec. 12 , 2015

7pm to 11pm
Waltz Eclectic Holiday Dance
Eclectic Dance music djed by Dennis Myers The music we play is a ballroom-like mix of contemporary dance styles: a number of varieties waltz and waltz tempos, swing both east and west coast, two steps, latin and music that you can do both blues and tango style dancing to.

Norse Hall, 111 NE 11th St, Ptld , Main Ballroom

Cost: $12 for dance,
Sunday, Dec. 20 , 2015

Lesson: 10:30 - 11:30 am
Dance: 11:30-2:30 pm
Sunday Waltz Brunch and Dance
10:30 to 11:30 Introduction to Waltz: Lesson by Uwe Hessinger and Colleen Suzanne
11:30 to 2:30pm: Eclectic Dance music djed by Dennis Myers The music we play is a ballroom-like mix of contemporary dance styles: a number of varieties waltz and waltz tempos, swing both east and west coast, two steps, latin and music that you can do both blues and tango style dancing to.

Norse Hall, 111 NE 11th St, Ptld

Cost: $12 for lesson and dance, $10- Dance only