Every Thursday
Dance: 7:30pm to 10:30pm

Waltz Eclectic Thursday nights at Fulton Park
DJ Dennis Myers, Host Colleen Suzanne
All styles of waltz plus an eclectic mix of other dance music. All ages, all levels. Everyone welcome. Cost $8
Fulton Park C. C., 68 SW Miles, Ptld.
Saturday, April 8, Spring Dance at Norse Hall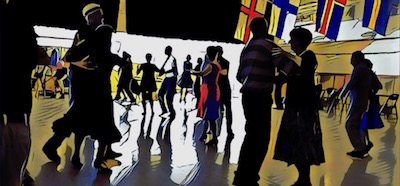 Norse Hall, 111 NE 11th Ave, Portland,
7:00pm to 11pm

Lesson: 7 to 8pm: intermediate NIghtclub Two Step lesson by Ariel Kaplan
Dance: 8 to 11pm DJ Dennis Myers

The playlist will be a dance eclectic playlist, with plenty of nightclub two steps and waltzes, plus enthusiantic swing, west coast, and latin

• Dress is urban eclectic or whatever your fancy is.
• Dance on Portland's premier large dance floor.
* Bar and Lounge open.

Cost: $14, lesson and dance, $12 for dance
Sun., April 16, Sunday Waltz Brunch
10:30 to 11:30 Introduction to Waltz: Lesson by Uwe Hessinger and Colleen Suzanne 11:30 to 2:30pm: Eclectic Dance music djed by Dennis Myers
A selection of waltzes played on the piano by Gene Freeheart
Come enjoy the best dance floor in Portland, a welcoming atmosphere, a lesson that has become a Sunday morning ritual. Norse Hall, 111 NE 11th Ave, Portland, OR, Main Ballroom Cost- $14 for dance, brunch and lesson, $12 for brunch and dance
Sat., May 6 Blues Eclectic at Norse Hall
Blues, Waltz, W & E Coast Swing, NC Two Steps, Latin, Alt Tango
7:30pm Fundamental Blues lesson with Marjorie Taylor,

8:30pm -11pm; DJ Dennis Myers, Dance to recorded music.
Norse Hall, 111 NE 11th Ave, Portland. Upstairs Ballroom
Cost $12 Lesson and Dance, $10 - Dance only