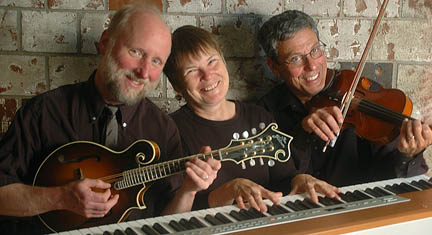 10:45 to 11:45am. Fun "Striding and Gliding" Waltz Combinations: Cross-step waltz and more
Learn a variety of fun, new, innovative cross-step waltz combinations from Ari's ever-expanding library of moves and inventions; beautiful, flowing, and elegant as always. Plus, get a little introduction to the art of free-flowing "Fusion Waltz". It's easy to learn and lots of fun to do!

Noon to 3pm: Dance to KGB.
Dance and Lesson: $20, Dance only $15
Norse Hall, 111 NE 11th Ave, Portland

We are excited to have KGB play an after- noon of partner dance music for us. Since the beginning of the Waltz Eclectic, the waltzes of KGB have been staples of our musical repertoire. Hearing and dancing to these familiar songs live will make this a special dance not to be missed.

Seattle's KGB consists of Julie King on the piano, Claude Ginsburg on the violin and Dave Bartley playing the mandolin and gui- tar. With ddle, mandolin, guitar and piano, KGB creates subversive music, lulling the unwary with traditional tunes, then jump- ing off into Balkan modalities, tango riffs and bluesy jigs. Claude slides from growl- ing grooves to impossible high notes on the ddle. Dave creates percussive energy and dazzling riffs on anything with strings. Julie explores the emotional range of the key- board from majestic to down and dirty.